We Design Brand Sophistication.
We Serve with smile.
Rich, Interactive and Beautiful Digital Experience.
UNI DIAMONDS
We applied our user centric product engineering processes to deliver the front end web application, Android & iOS mobile apps for UNI Diamonds with the following domain specific features:
Diamond price negotiation
Pair diamond
Time-bound diamond rental
Bidding module
360 Degree vision view
Direct purchase
Smart search
Multi user role
Full logistical solution
Stone view analytics
Google tag manager
Price synchronization
Voyij
Voyij is an ecommerce multi-vendor platform that helps plan an Alaskan vacation with personal recommendations & insights.
Calendar availability, time slots, attendees per slot and tiered pricing for activities.
In-store pick up for gifts along with multiple pickup locations for sellers.
Generation of activity and pick up confirmation numbers to validate gifts or activities.
The tiered pricing structure for activities.
Global and slot level attendees' settings for activities.
Integrated third-party analytics tools.
WTutors
We implemented principles of design thinking to zero down on the user pains and created fluid user journeys for each user (Learners, Tutors and Admin). We integrated multicurrency and multilingual features to engage the global audience. To accelerate the discovery of the tutors in alignment with user needs, we added filter functionality to a granular level.
Automatic detection and management of daylight savings.
Configurable break timings between two consecutive sessions to aid Tutors
Multilingual (English, Chinese-Mandrin)
Time zone auto-detection and subsequent notification trigger to Tutors and Learners in different time zones
Automatic currency conversions for hassle-free transactions between Tutors and Learners
API integrations
CometChat (Video Chat)
Authorize.Net & PayPal Standard (Payment Gateway)
MailChimp (Mass Mailing)
KOUTURE BOOTH
We designed well thought information architecture for fluid navigation flow covering each use case. Custom modules are created to cater to the essential functionalities of the wholesome experience of conducting an event like; audio & visual equipments, lighting rentals, furniture rentals, pipe & drape rentals, dance floor rentals, chair rentals, trussing rentals & photo booth.
Zoho live rentals with key features like:
Advanced booking and split payment handling functionality
Rental prices configuration on daily & hourly basis
Zoho Live Chatbot Integration
NOOR & ZAFIR
Online lifestyle marketplace catering to modern Muslims. Products on the platform range from clothes, religious books, toys, beauty and home décor, covering all such items that would be required for a modern-day Muslim family.
Combination of Order & Item level shipping
QuickBooks (Intuit) API integration
Product listing based on buyer delivery address
Intuitive product display to improve UX of the buyer while making a purchase

API integrations

QuickBooks (Intuit) API
Google Geolocation API
FIND RENT WEAR
Online fashion rental platform for people to list and rent luxury designer clothing and accessories.
Minimum and maximum rental duration settings
Product Approval Module
Automated order status tracking
Business models: Rental or Sales or Both
Product availability Calendar
Wishlist module with product unavailability triggers
Brutalist design with bright images on a monotone background
Admin can enable/disable the product Rental &/or Sell module
Conversion centric user onboarding forms design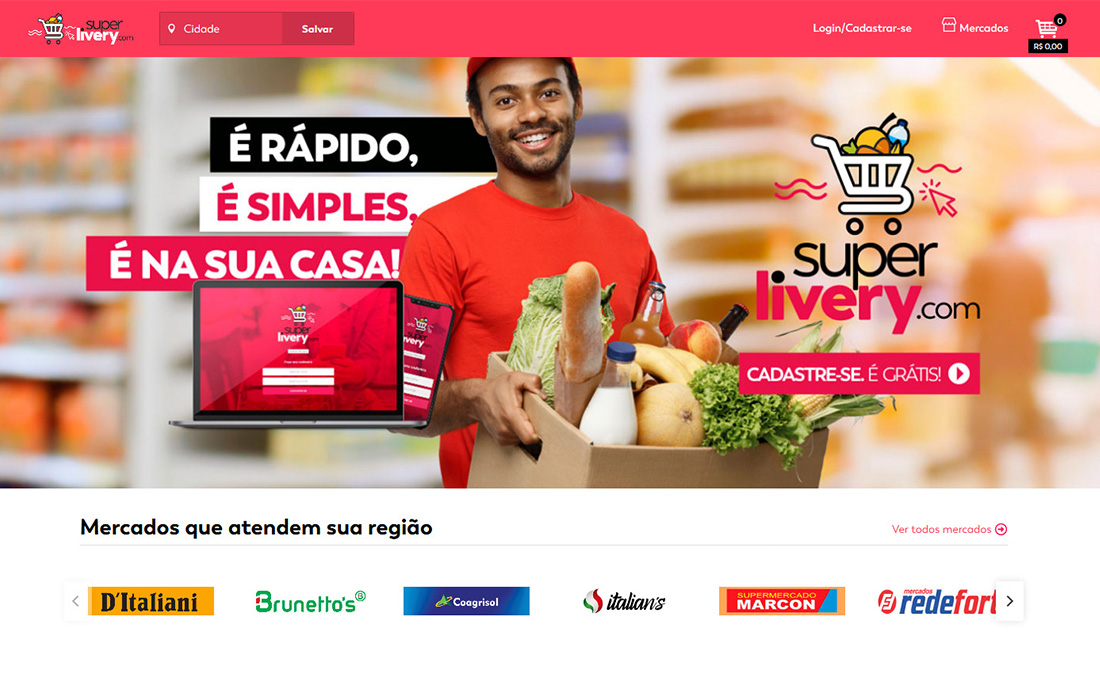 SUPERLIVERY
Our reliance on agile practices and a human centred approach acted as a key accelerator to inform a unique user experience of Superlivery; an online grocery marketplace that enables the buyer to order from nearby grocery stores in Brazil, where seller and delivery staff are responsible for fulfillment.
API integrations
Twilio API Integration for order status message delivery
Pagar.me payment gateway integration
Google Maps API for geo-location & delivery boy route display
BW Marts
When we were approached by people behind BW Marts, it didn't take us a lot of time to understand their business requirements. After all, they wanted to launch a multivendor ecommerce website, which is something we are known for. We recommended Yo!Kart V8 as the solution. We added a new module to handle commissions for admin and sellers, minimum order price, modified header design, etc. The resulting website, named BWANAZ, packs a functional design with all the products featured right on the front page.
Nest Stores
With an online multivendor marketplace in mind, Nest Stores approached Webs Utility to create a website that seamlessly caters to the needs of hotels, restaurants, and cafes. Given the exact requirements, it was decided to proceed with our power-packed solution, Yo!Kart. After a detailed discussion, our team of brilliant experts set forth to create an online solution that's not only pleasing to look at, but also a delight to use. Gathering all reliable vendors and shoppers over the same platform has truly revolutionized the shopping experience in Kuwait and all over the middle east.
Pendazi
Pendazi is an online marketplace that features a diverse range of products ranging from electronics, apparels, cosmetics to sports gear, toys, home appliances, and more. When we were approached by people behind Pendazi, it didn't take us a lot of time to understand their business requirements. After all, they wanted to launch a multivendor eCommerce website that engages right from the first glance. Keeping their requirements in mind, we suggested them to go for the Yo!Kart. The programming team at Webs Utility delivered a website with neat design and easy navigation. The categorization of products further enhanced the user experience.
technology

HTML5 & CSS3,Custom, PHP, MySQL, JavaScript, JQuery
TV SHOP
TV SHOP is a Myanmar based company offering exceptional eCommerce services to varied business domains. They came to Webs Utility Technologies for launching a multivendor eCommerce website, which is something we are known for. Keeping their requirements in mind, we suggested them to go for Yo!Kart.
From customized design to a robust structure, we made sure every necessary feature is added to their online marketplace, to help TV SHOP admins streamline their operations. With an aim to cater to a vast audience, we offered an efficient categorization of products that made TV SHOP stand out among its competitors.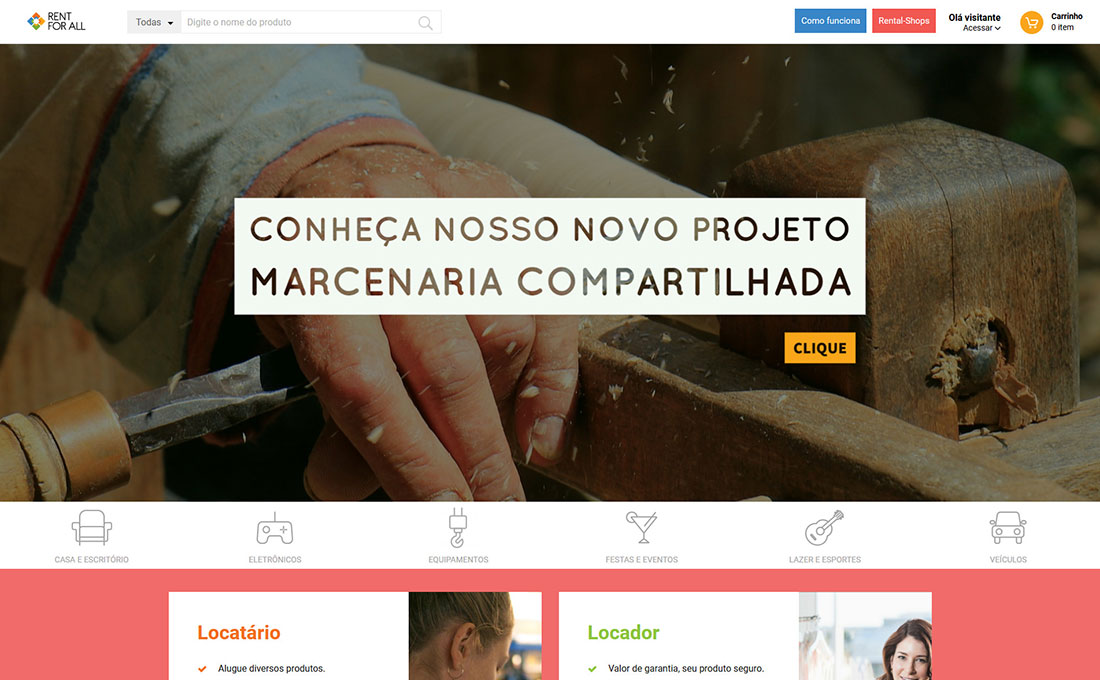 Rent For All
Rent for All is an online rental marketplace powered by YoRent.
As per client's requirements, they required a rental website where customers can rent out products on specific dates. They also wanted to have the option to let the customers purchase the product. After the requirement gathering phase, we suggested them YoRent GoCustom package. After analyzing the design our clients had in mind, we started working on it and added features that will make Rent For All a highly engaging online rental marketplace.
OYO Cater
Webs Utility was the technology partner for OYO Cater to launch their hassle-free corporate catering service. Built on Yo!Yumm, OYO Cater is an online food ordering and delivery marketplace based in Calgary, Alberta.
When the people behind OYO Cater approached us, we understood their business requirements in no time. As we knew what it takes for an online food ordering and delivery business to attract more users, so we recommended Yo!Yumm as the solution. Keeping the future of the business in mind, we helped OYO Cater establish a connection between companies, institutions, and people with great local catering options which further empowered their business.
EazyBuy
The Nova Scotia-based company wanted to launch an online grocery store that could effortlessly bring groceries to the doorstep of their customers. With an aim to make grocery shopping an enjoyable experience, they wanted to ensure that shoppers find their groceries with minimum possible effort.
After the requirement gathering phase, the team at Webs Utility suggested them a star product, Growcer. With a great focus on user experience and keeping the marketplace trends in mind, we started working on EazyBuy to make it a highly engaging online grocery supermarket.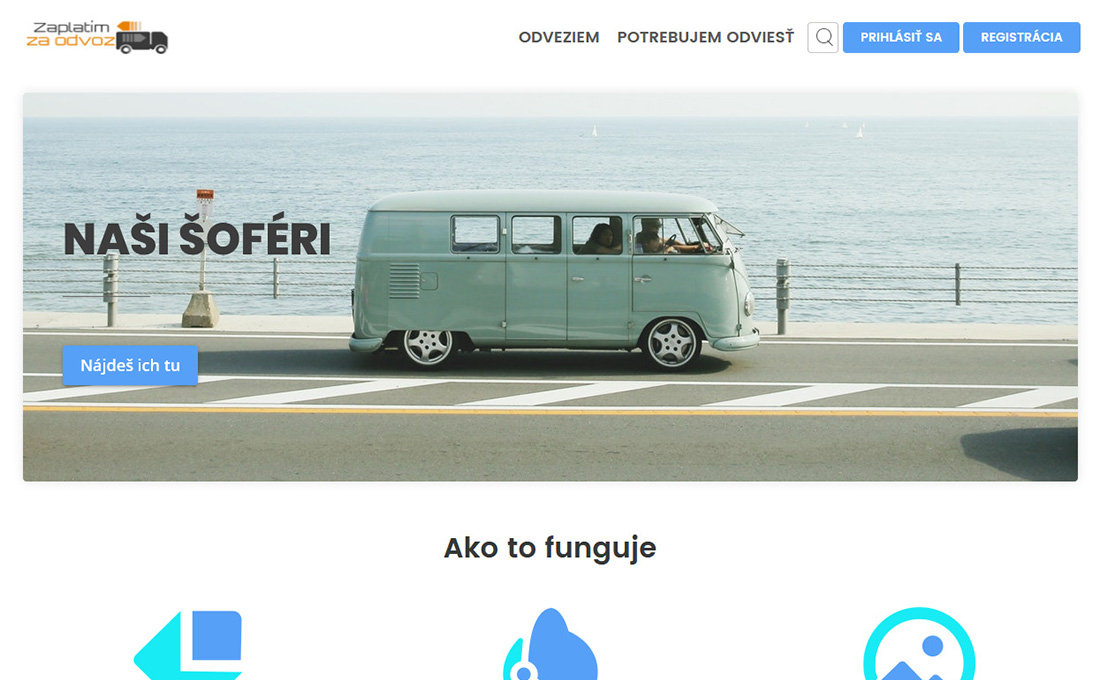 Zaplatim za odvoz
Zaplatim za odvoz approached Webs Utility with the requirement of creating an agile portal for goods transport that could help people save operating costs, nature, and their precious time. Gauging the requirements, we created this transport portal using our own product, Yo!Gigs, a turnkey solution to launch advanced service marketplaces.
To enhance the usability of the entire platform, we designed the website with an easy to use interface that could seamlessly bridge the gap between chauffeurs and the travelers. Additionally, we integrated a cutting-edge search functionality along with a custom registration form to ensure that the website looks professional as well as user-friendly.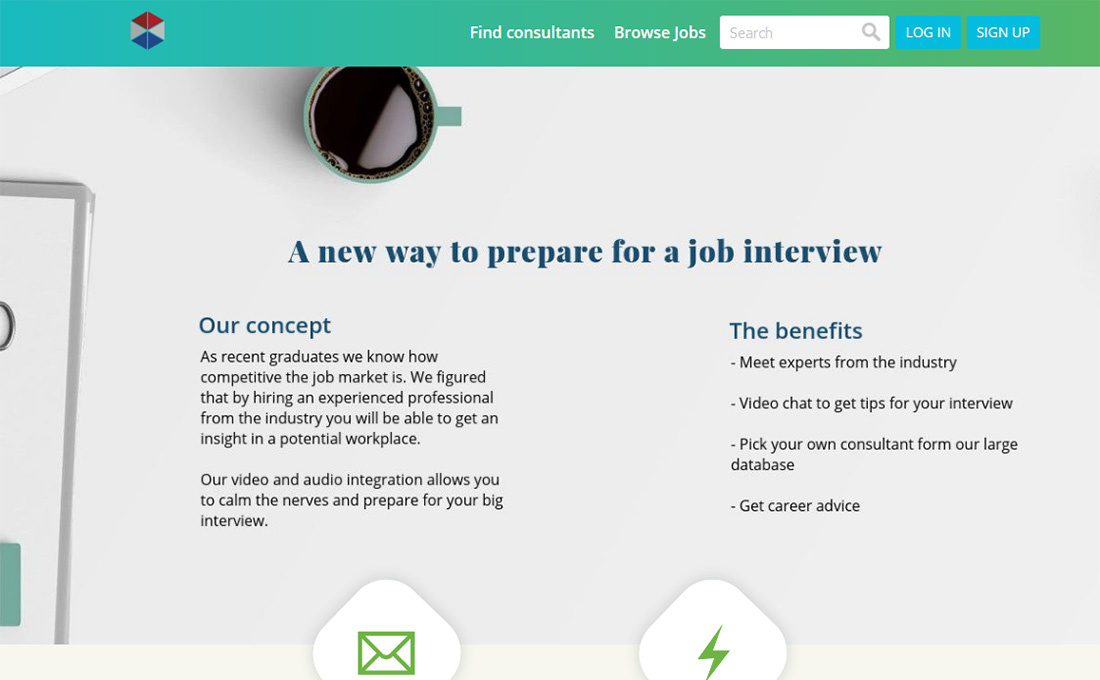 Consultmi
Consultmi is an online platform where entrepreneurs hire consultants to get feedback on their work, i.e. from a business plan to a dissertation. By finding a relevant consultant at a quality price, it lets an entrepreneur to focus on the growth of the business. When Consultmi came to Webs Utility with their idea, they wanted a unique solution that could help them stand apart from their competitors. By analyzing their targeted user base, our designers formulated a website design, which scored very high on user experience. From a robust structure to safe payment gateways, we made sure each and every necessary feature is added to their online marketplace, to help Consultmi admins streamline their operations.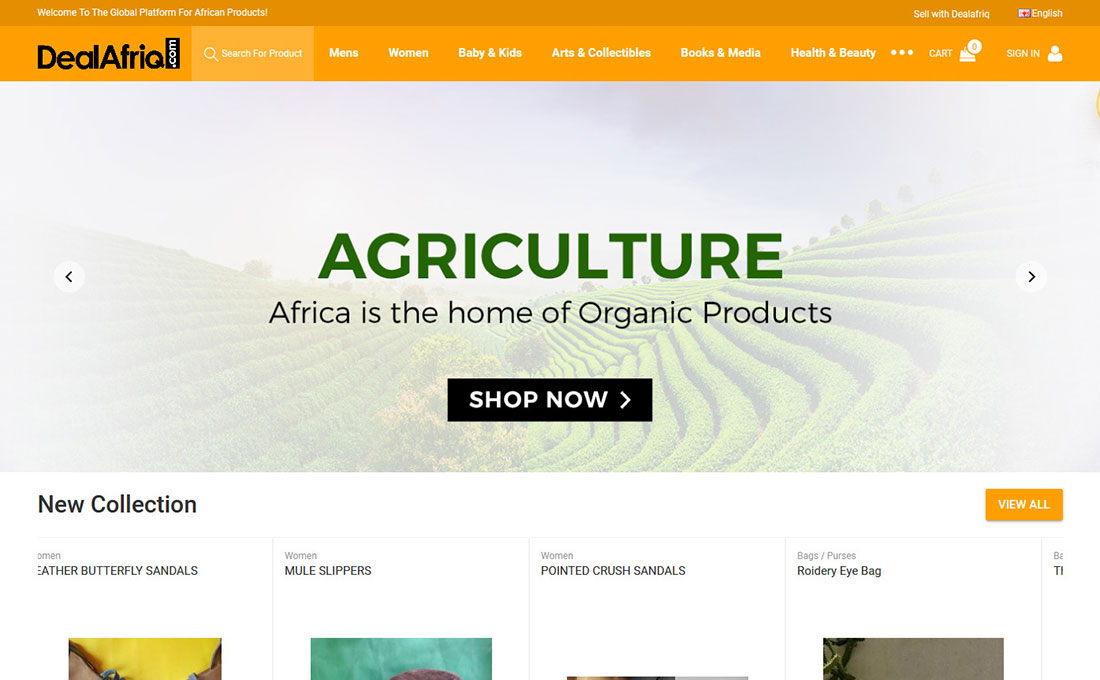 DealAfriq
The client wanted us to create a website that engages right from the first glance. Keeping their requirements in mind, we suggested them to go for the Yo!Kart. Here is a glimpse of additional customizations done by us:
Integrated DHL API for shipping
Category management as per popular wholesale ecommerce benchmarks set by major market players
Facebook and Google Plus login for Sellers
The resulting website, named DealAfriq, stands true to the motto ''Bringing Africa to The World.''
Visitors Guru
With an online travel insurance business on mind, the client wanted us to create a website for specifically for the niche. Given the exact requirements, it was decided to proceed with a WordPress-based solution. After a detailed discussion, we set forth to create an online travel insurance website that's not only pleasing to look at, but also a delight to use. Getting quote is extremely easy and quick as the form is right at the top fold.
esimplicity
After understanding esimplicity's requirements, the web development and design teams at Webs Utility Technologies built simplicity.com from scratch. The focus was on branding and a clean responsive website design. We developed a solution to reflect the kind of work esimplicity is involved in.
The company works toward expanding research, scientific knowledge, and innovation in health and medical domain. They also partner with professionals and other organizations.
technology

WordPress,HTML5 & CSS3, JS, Custom
eggheads
By following the best design and coding practices, the Webs Utility has created helloeggheads.com website from scratch. The Bangalore-based company, Eggheads, focuses on building a highly qualified distributed team of experienced developers.
Their selection criteria are based on the level of expertise and skillset. They prefer candidates from premier educational institutions and tech companies in India. The selection process comprises of aptitude test, logical reasoning, programming, and soft skills test.
Certified Gold Exchange
One of America's premium precious metal (gold & silver coins & bar) traders, Certified Gold Exchange provides licensed dealers, institutions, and household investors a common trading platform. For its impeccable customer services, Certified Gold Exchange has maintained an A+ BBB (Better Business Bureau) rating for over a decade now and also has a 5-star Google customer rating.

Certified Gold Exchange asked us to turn their existing website into an online platform that reflects their authoritative image as a precious metal trader in the US. Using technologies such as xHTML for UI design, PHP 5.5 for server side scripting, we did a complete makeover of their website. We also integrated social plugins to bring in a perfect balance of professionalism and user-friendliness to their website.
Excursions Dubai
Excursions Dubai is a tour and travel website that offers the best holiday experience for people who plan to visit Dubai. Excursions Dubai pays special attention to ensure customer satisfaction and respects customer's safety by using encryption technology for the transfer of data and making transactions. Webs Utility Technologies did an in-depth analysis of various travel portals to give the best custom solution to Excursions Dubai.

The entire platform is built on top of CodeIgniter framework, which is based on MVC architecture. The added benefit of such a framework is the availability of 3rd party functionalities that can be used to further enhance the platform. Webs Utility paid special attention to the brand value and customized the entire User Interface using HTML, CSS, JavaScript, and Jquery. The platform also comes with payment gateway integration and support for multiple currencies, integration with Juniper API for affiliates program, and more.
Small N Great
SmallNGreat is an organization built to benefit the younger generation. Bridging the gap between parental needs and a platform for overall-development of children, SmallNGreat offers a unique learning experience to children. They bring out the best in a child through activities which focus on making children think beyond their own needs and by helping others, it encourages kids to become a better member of the society through cultural exchange, more engagement with society, pursue hobbies, and get a better understanding of environment through awareness.

The client approached us with requirements for a new website with features like an integrated online store, blog, responsive layout, a multilingual platform, etc. The design and development teams, along with project coordinators at Webs Utility, immediately went to work. The end product turned rough ideas into a beautiful and elegant website.
Erik's Adventures
Erik Rasmussen has been organizing adventure vacations from the past 11 years. Turning his passion into a profession, Erik's specialty is in organizing active singles tours and adventure running vacations. Together with his wife, Myra, the adventurous duo has organized numerous events including Inca Trail Marathon to Machu Picchu and more.
When Erik approached Webs Utility and told us about his requirements, the team immediately got down to work. However, during the analysis phase, many notable points were raised by team members to improve the user experience and make the navigation more intuitive. Starting right from the homepage, the website provides an engaging experience to the user with high-resolution images and immediate access to information about upcoming events. Additionally, Webs Utility integrated the website with WordPress, which provided a content management system for easy management of the website.
Wiser Community
From connecting elderlies to providing them a shared home, the client wanted to make everything easy for the target audience. Keeping their requirements in view, we started developing Wiser Community right from the scratch with CodeIgniter. We divided the whole project into 4 phases and worked on them to give the client exactly what they required.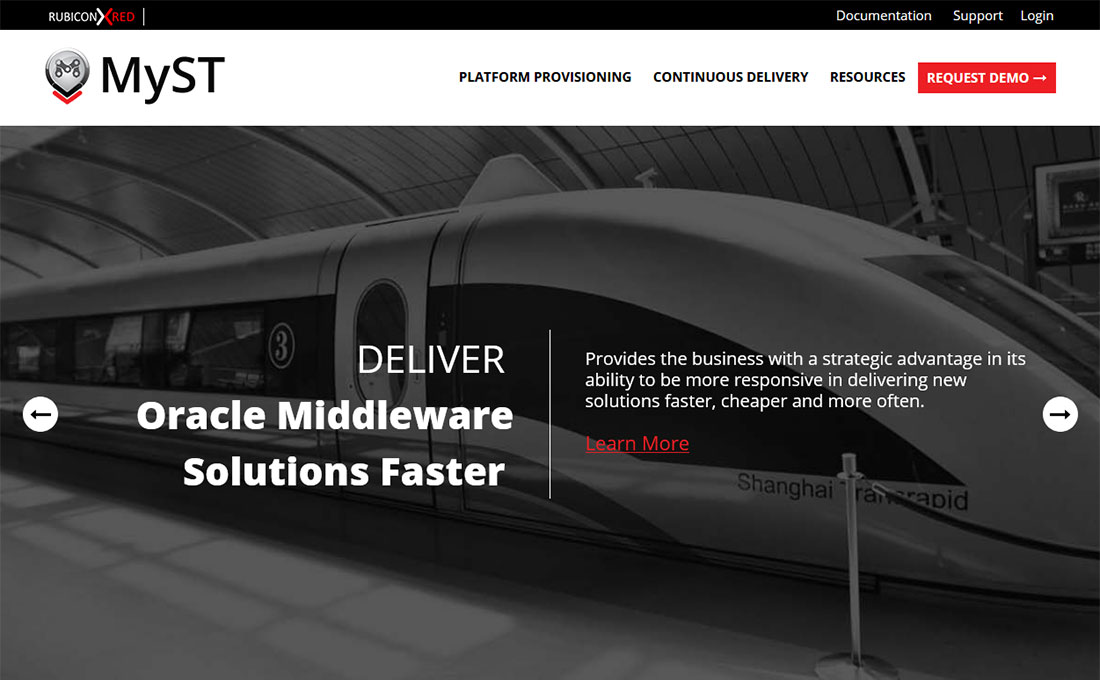 Rubicon Red
Rubicon Red is an Australia based organization with offices in India and US offering a range of services pertaining to Oracle Fusion Middleware Platform. Their MyST product provides cloud independence, allowing businesses to move their middleware infrastructure across different cloud providers. They took services of Webs Utility for building their website from scratch and offering a highly intuitive platform.

As this was a corporate website, we adhered to the best practices, making it informative and user engaging. The whole website was built from ground up to make it responsive and intuitive. Our designers kept the design of the new website akin to the parent website to ensure a single identity.
technology

HTML5 & CSS3, JS, Wordpress
Kazadu
Kazadu is a US-based database of service professionals of real estate industry that includes real estate agents, property managers, house inspectors, house service professionals, etc. Apart from being a handy online directory of real estate professionals, Kazadu also hosts ratings, reviews, & testimonials provided by clients to professionals, making it one of the most trusted web portals for real estate industry professional search in the US.

Despite being a trusted online resource, Kazadu was lacking in conversion. After initial project analysis, Webs Utility team was quick to recognize that their website needed some UX upgrades as per current web designing trends. We worked on improving the website information architecture, added key trust elements, and implemented enhanced social media integration and review & rating system to make the platform more user-friendly.
ContentYak
From articles to social media updates, the client wanted to connect customers with experienced writers. This is where Paperweight's GoCustom package came into the picture. Custom design for Paperweight with minor tweaks as per client's requirements enabled the client launch this beautiful and fully functional website.
Mouau
Mouauportal.edu.ng is the website of Michael Okpara University of Agriculture, Umudike. It is one of the three universities specialized in agriculture and established by Federal government of Nigeria. The client required a robust university management system to manage staff, students and all administrative activities.

We created the website from scratch and integrated ERP system named Campus to Mouauportal.edu.ng. The website delivered by our team enables Michael Okpara University administration to keep records of all finances, admissions, students registrations and more. All the required features were added to site after planning with client and taking suggestions from our UI experts. The site includes distinct sections like community, academia, and admission catering to diverse needs of the client like informing staff and communicating with students.
Ad System LED
Ad System LED is a US-based firm that manufactures and supplies indoor & outdoor LED signs & screens across the American continent. The company has been in business since the 1970s and is a trusted business partner of businesses of all sizes across the US for indoor & outdoor LED displays & outdoor digital billboards for advertising, communication, and entertainment purposes.

Ad System LED came to us for their website redesign. After reviewing their old website, our team of business analysts did a thorough research to acquire a clear understanding of the latest industry trends, then worked with designers to come with a website design that ideally meets clients' requirement and delivers value to their business.
Insist Gaming
Insist Gaming was founded in 1994 to provide gaming gears to competitive gamers. Their main products are gaming eye gear, gaming keyboard, and gaming mouse. The gaming eye gear protects the eye from the ill effects of staring at computer monitor for hours.

Webs Utility made the website for Insist Gaming keeping the brand value in mind. The website is designed from scratch using technologies like JavaScript, CSS, HTML, and more. Due to the responsive nature of the website, it automatically adjusts according to the screen size of smartphone, tablets, laptops and desktops. The team of web designers and UX experts at Webs Utility emphasized on the use of high-quality images, which improved the overall viewing experience of visitors.
Zion Cloud Solutions
Backed by a highly experienced team of technology experts, certified engineers and system architects, Zion Cloud Solutions (ZCS) provides technology services to large businesses and government organizations. Working with clients belonging to different industries, ZCS helps them by providing cloud consultation and solutions, IT infrastructure and cyber security consultation, training and education, and more.

ZCS is a US based client of Webs Utility Technologies, whose requirement was to redesign its website. After analyzing the business, the design team identified all the key elements, which needed to be highlighted on the website. We specifically used a color theme, which would appeal to their client base and bridge the gap in-between. We also added Google Maps API on the website in order to highlight their location in contact page. Special care was given so that the website could highlight their motto "Reliability as a service".
bluesphere Advisors
Bluesphere Advisors provides financial consultation to individuals and businesses. The firm is driven by strong principles, where the client's interest is given top priority. While working on their website, we felt that we needed to come up with UX, which was in tune with Bluesphere Advisors philosophy.

We used blue as a primary color, which according to color philosophy builds trust among consumers. We also used WordPress for content management system and integrated a plugin to improve the SEO of the website. Overall, the website was kept professional as well as user friendly.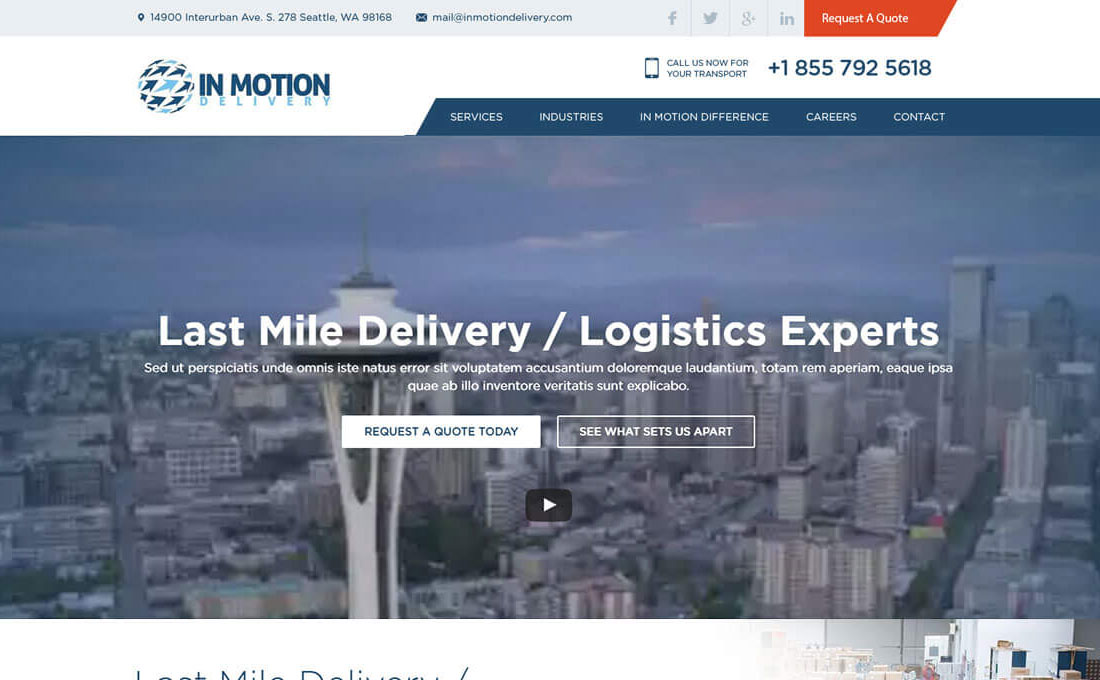 In Motion Delivery
In Motion Delivery is a US based client of Webs Utility Technologies. The company focuses on providing the best quality last mile delivery service. It also offers services like white glove delivery, logistics management, and warehouse management services. After conducting a thorough research on best website designs, the team at Webs Utility decided to build the website using Drupal platform.
With clean code and optimized use of images, the development team was able to build a website that loads fast and performs well in Google search. The best part was that the website was responsive in nature offering a similar experience across different screen sizes.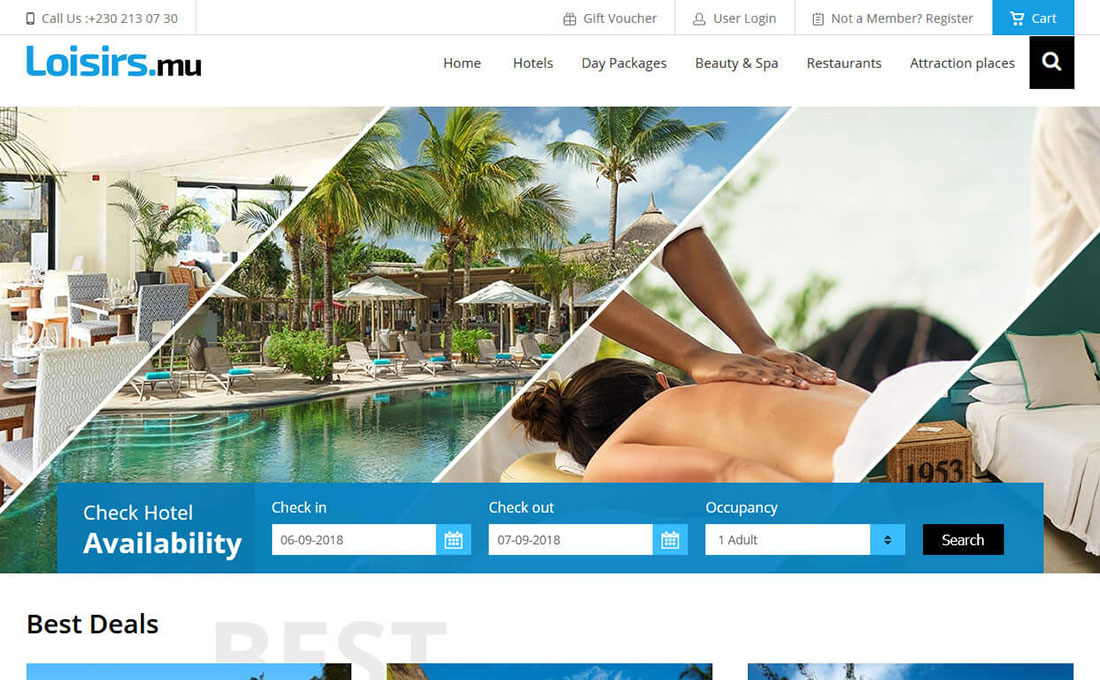 Loisirs
The client wanted a custom website where customers can book a variety of services such as Hotels, Day packages, Restaurants, Beauty & Spa ,etc. After understanding the client's requirements, we concluded that a Magento website built right from scratch will be the best solution. The website packs all the required features needed to run the business in the most effective way possible. From checking hotel availability to booking places, everything happens effortlessly.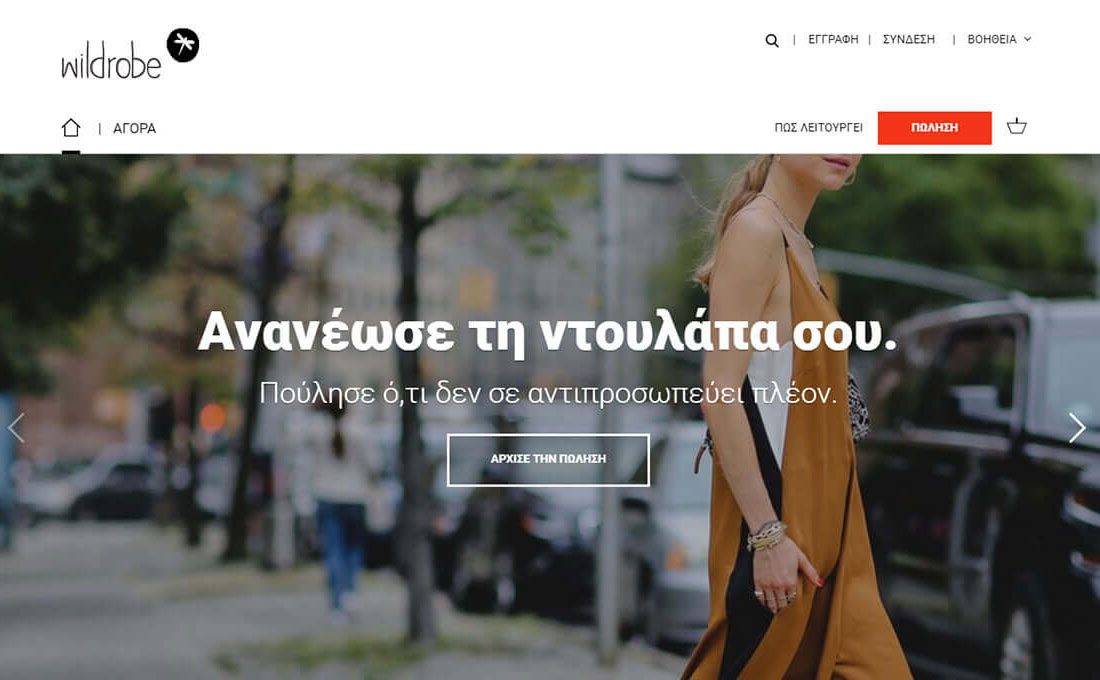 Wildrobe
Wildrobe is an online marketplace, where people can buy and sell branded (used as well as new) clothing in Greece. Anyone can list their personal branded clothing on Wildrobe by taking pictures and submitting them to be reviewed by Wildrobe.
Once the pictures are approved by Wildrobe, the item can be listed on the website enabling the owner of the item to sell the clothing and earn money. Creating such an ecommerce platform was a UX challenge for experts at Webs Utility. Being an ecommerce marketplace provider, Webs Utility offered custom Yo!Kart solution to build Wildrobe website.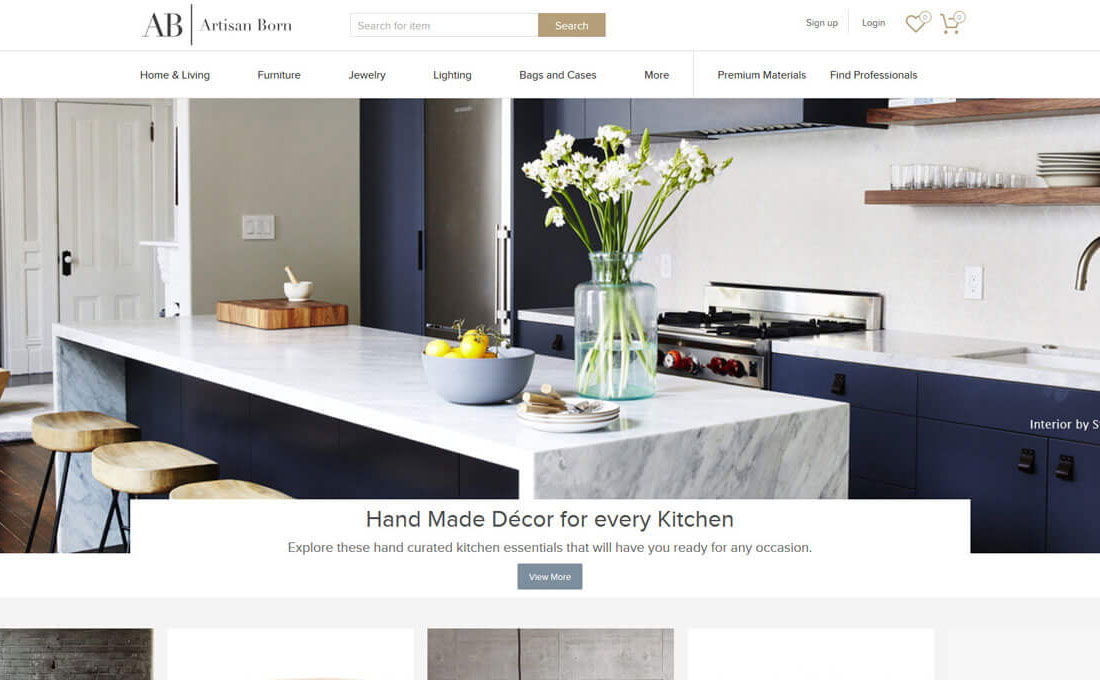 Artisan Born
Artisan Born is an online furniture marketplace, where people can buy and sell crafted furniture in the USA. We custom built Artisan Born on our own eCommerce marketplace platform, Yo!Kart. From pixel perfect ratio to category based search; everything on this online furniture marketplace is designed in accordance with client's unique requirements.
We introduced professional module where a professionals can add their portfolio. This can be further shared by potential buyers on social media or can easily contact the professional through the website. Additionally, the product addition process was modified to suit the requirement of the client.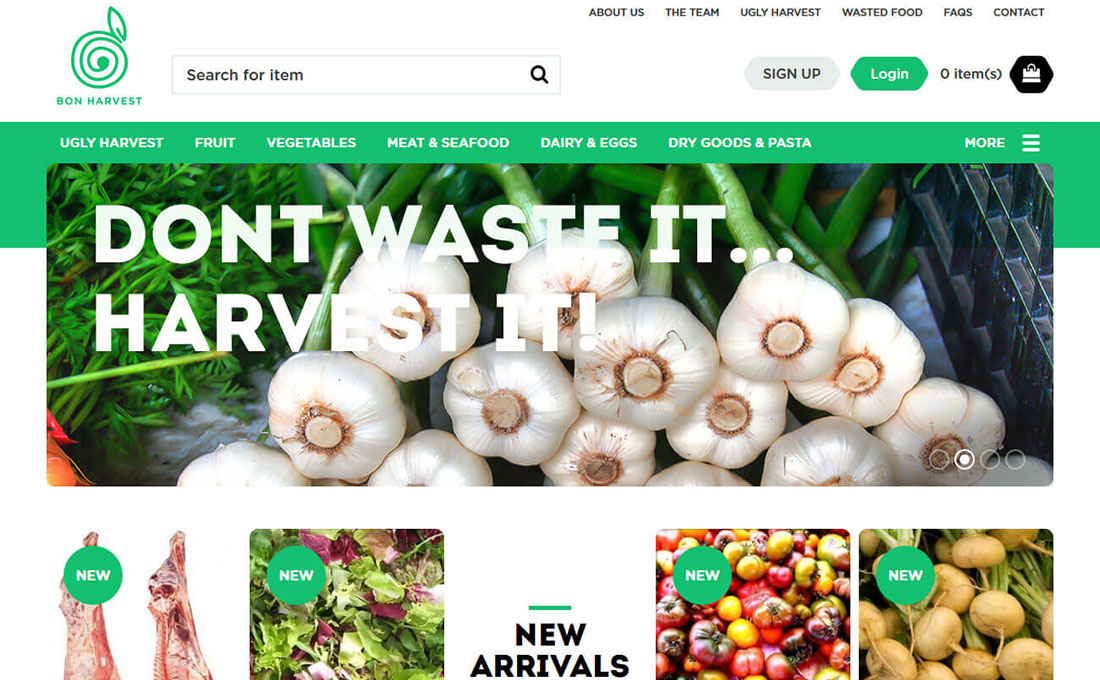 Bon Harvest
Having years of experience in building ecommerce marketplaces, our team easily understood the business requirements and challenges associated with Bon Harvest. With ecommerce being our key expertise, we custom built Bon Harvest on top of our own ecommerce marketplace platform, Yo!Kart.
Bon Harvest is an online marketplace, which bridges the gap between farmers and consumers. Their aim is to stop the food wastage in United States, which accounts to $165 - $200 billion in wasted food each year.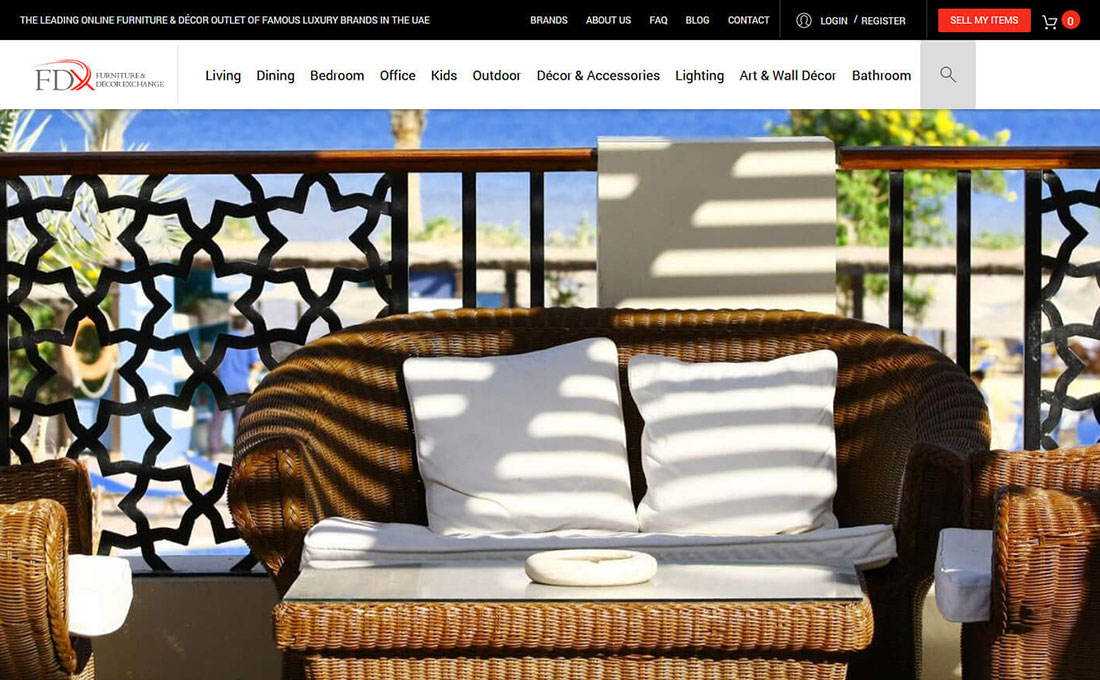 Decor Exchange
The client shared following requirements with us:
Customers have the freedom to accept or reject the delivered item
Payment made by customers don't reach the vendor till the time the customer has accepted the package
An item should be removed from the listing if it is out of stock for a particular time frame
Requirement for a base shipping cost on distance and an additional payment gateway integration
We suggested GoCustom package of Yo!Kart V6 to the client. After that, we made additional customizations to integrate a module for shipment calculation. For correct distance calculation, we integrated Google API. We also made additional design changes to meet client's design requirements.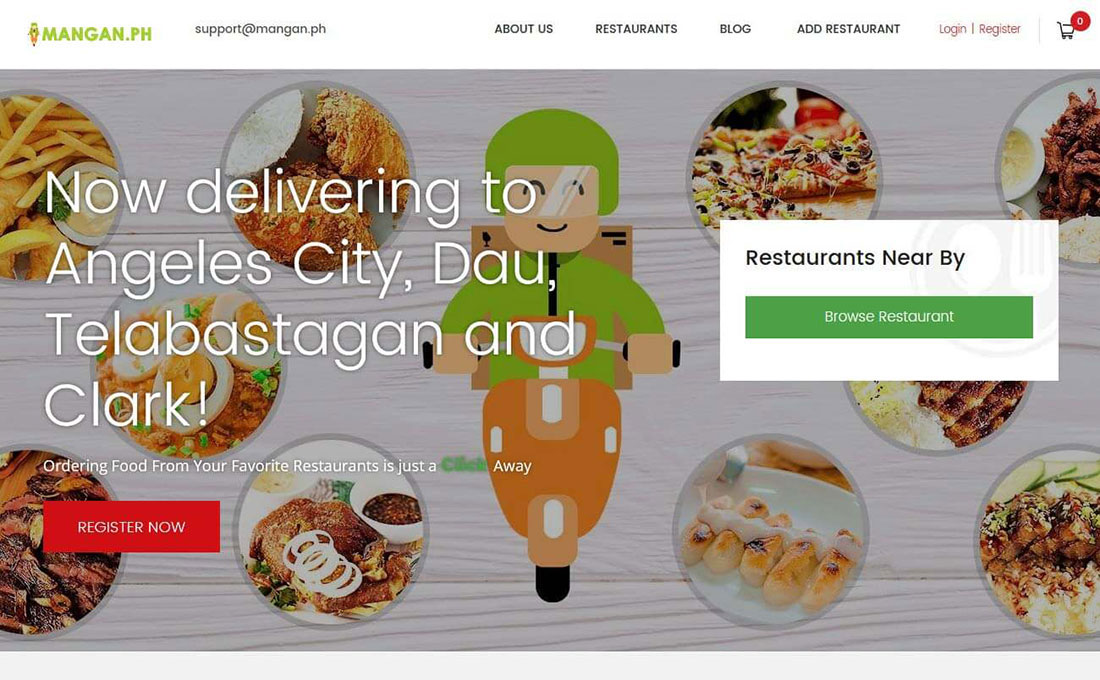 Mangan
Webs Utility was the technology partner of Mangan to launch their food ordering & delivery service. Built on YoYumm, Mangan is an online food ordering and delivery marketplace based in Philippines.
Keeping the current and upcoming marketplace trends in mind, we created this custom developed website with great focus on user experience. Working on the same model as Zomato and Foodpanda, we knew what it takes for an online food ordering and delivery business to attract and convert more users.
From customized design to a robust structure, we made sure each and every necessary feature is added to their online marketplace, to help Mangan admins streamline their operations. The ease of use and safe payment gateways add to the overall user experience. Louie Alcantara, the CEO at Mangan, gives us 5/5 for the stupendous support, and end-product, which got ready within a matter of few months. He's on the way to double up sales (from 3,000 deliveries to 6,000 deliveries per month) within just 6 months of operations. We wish him good luck for future.
MaltaMarkt
The client got in touch with us with a requirement for online rental marketplace. By the time they were done explaining their business requirements, we narrowed down the solution to YoRent. As per the requirements, we offered YoRent's GoQuick version. The final website offers a neat design and easy navigation. The categorization of products further enhances user experience.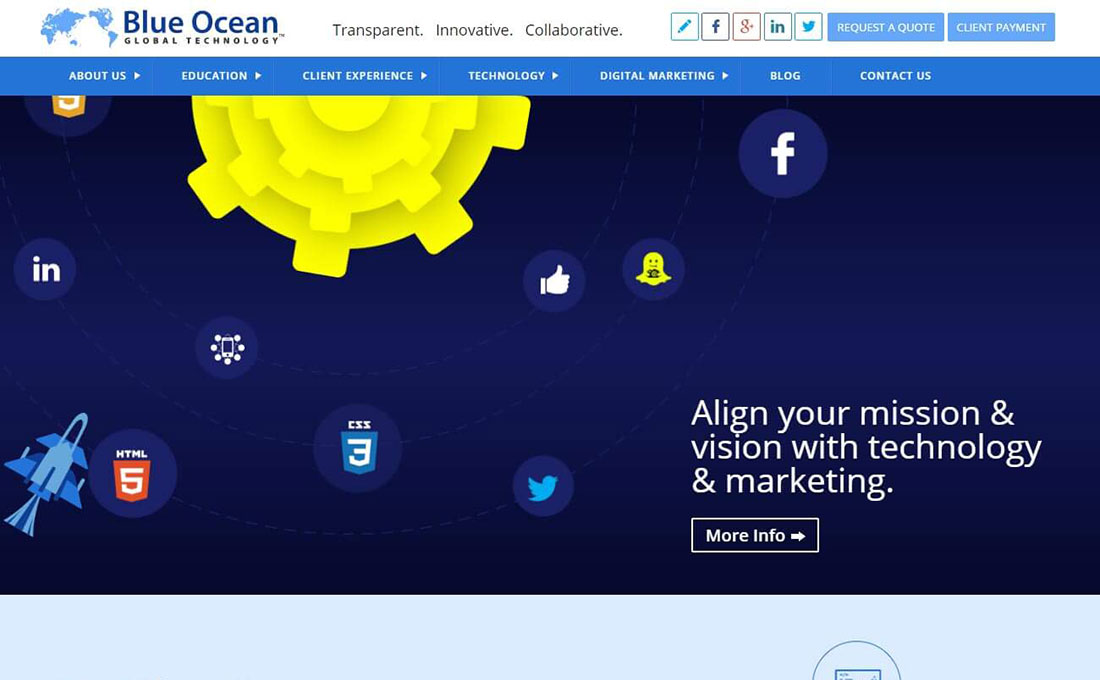 BOGT
Blue Ocean Global Technology is a web solution provider of USA that offers a wide range of technology solutions like digital branding, custom web design, and value engineering. Sameer Somal, the Chief Financial Officer of BOGW group wanted a subtle design that could educate as well as represent the company.

Our team created the website from scratch after pulling together the requirements list and blueprinting the design. Blue is the theme of BOGT, so our designers knew that it could be anything but not-blue. Designed for the businesses that want to adapt with ever-growing sphere of technology, this project is appreciated for well-crafted UX. The website is built using HTML, CSS, JavaScript, Jquery and is integrated with wordpress (customized).
technology

HTML5 & CSS3, JS, Wordpress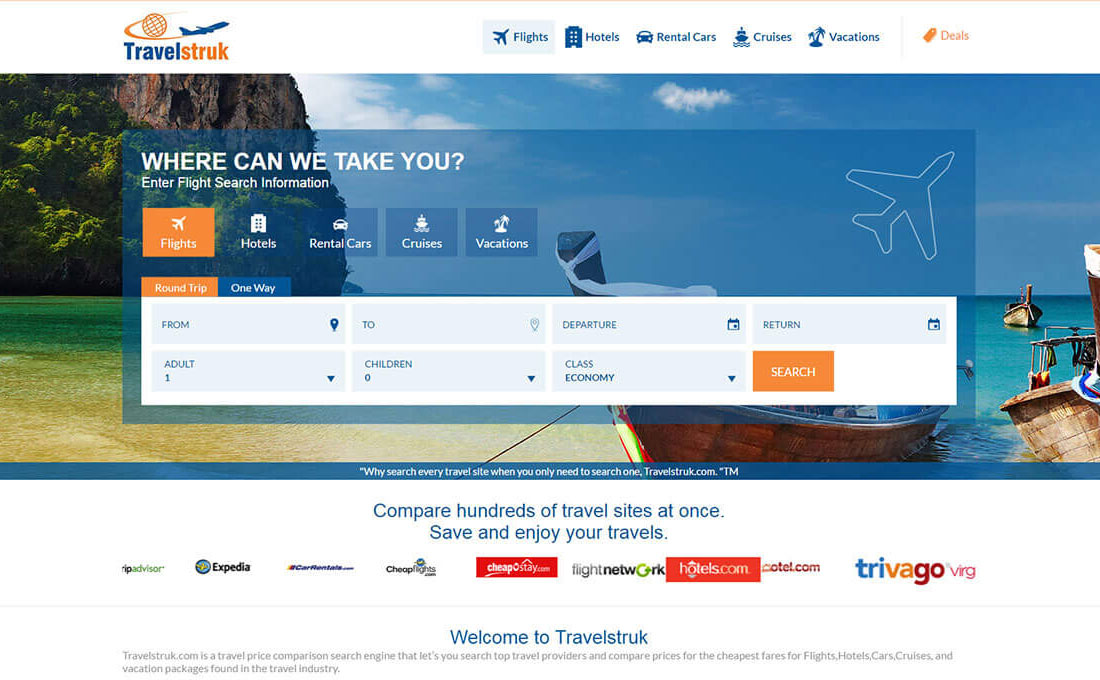 travelstruk
Travelstruck approached Webs Utility with the requirement of creating a travel price comparison search engine via which people can search and compare fares for Flights, Hotels, Cars, Cruises, and vacation packages. Since the website focused on price comparison, the design team worked towards improving the user experience of the website. Additionally, we integrated blog, content management system (CMS), custom WordPress plugins, and more.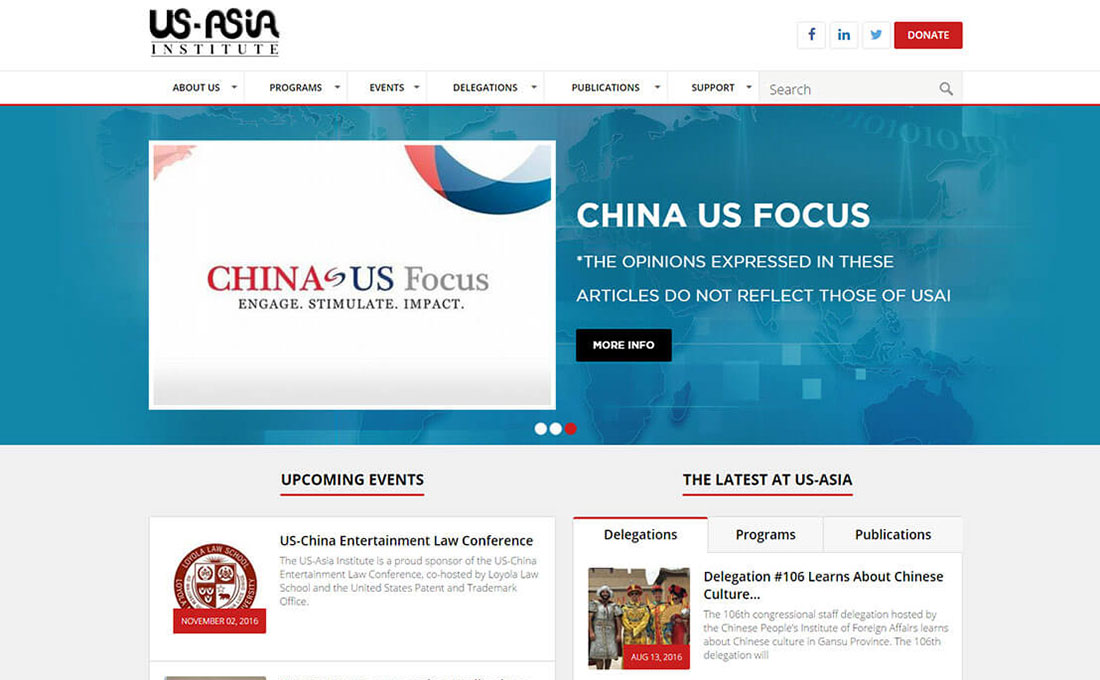 us-asia institute
The US Asian Institute (USAI) is a United Nations-associated NGO, which works towards strengthening ties between governments of the United States and Asia. Through exchanges, briefings, receptions, conferences, and programs, the US Asia Institute has successfully kept the dialog channels open for more than 35 years. USAI has successfully led over 135 delegations to Asian countries covering themes like economic development, terrorism, environmental protection, and more.

The website requirement was of a simple website that can enable a visitor to keep himself updated with the recent happenings at USAI. Webs Utility tested several website designs for US Asian Institute before finally settling on one, which was responsive and offered news updates starting right from the homepage.
Nyanfu
Nyanfu is a daily deals site of Nigeria that not only sells daily deals but also focuses on helping small businesses and supports charities in Nigeria. The project requirements were centered on users seeking discounts and small businesses that need more footfall. Gauging the requirements, we created this daily deal portal using our own product, YoDeals, a daily deals system.

YoDeals offers responsive and scalable websites packed with advanced features meant for website owner, sellers and buyers. Nyanfu aims at supporting communities and reducing poverty by building human capital. Webs Utility met its requirements by delivering a platform that totally focuses on making user experience and ensures high rate of conversions as well as engagement so more and more businesses/shoppers can be allied through this business. The site is equipped with sound deals and affiliate management as well as all important features like voucher redemption, and content management.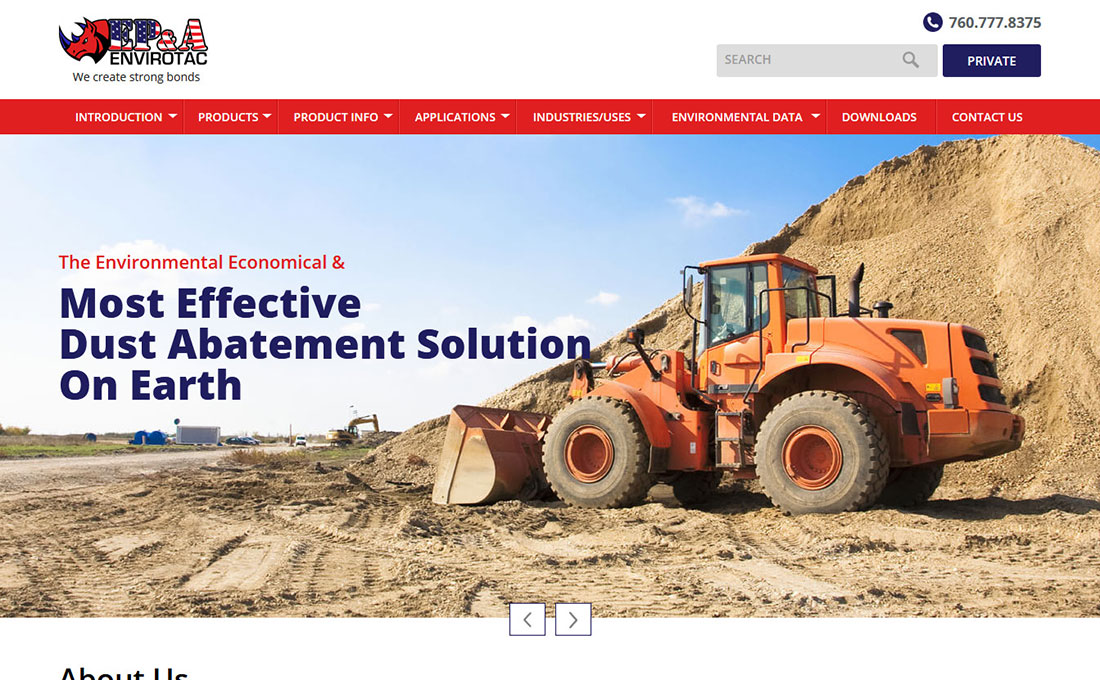 Envirotac
Environmental Products & Applications (EP&A) provides a variety of products and services to control dust and erosion. Their Envirotac polymer series is used in stabilizing soil particles, to avoid soil fracturing. EP&A's services are used in various industries, such as Mining, Military, Energy, Transportation, Construction, Oil & Gas, and Slope Stabilization. Also, EP&As products are environment-friendly and odorless. Webs Utility Technologies redesigned EP&A's website improving navigation as well as the brand image. By improving the website's SEO, EP&A ranks on the first page of major search engines.

Webs Utility improved the quality of images and increased the size of the slider images to improve engagement. Since EP&A is a global company having a presence in multiple continents, Webs Utility also provided their website with support for multiple languages, such as Arabic, French, Hindi, Portuguese, and Spanish.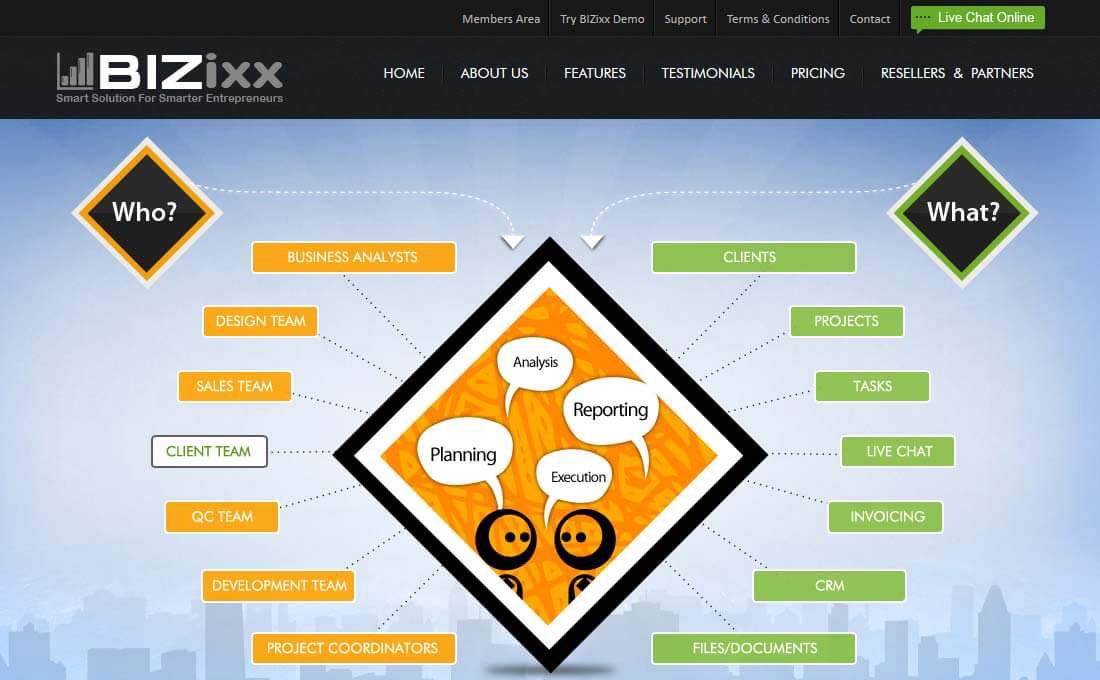 Bizixx
BIZixx is an advanced Project Management System we created for organizations requiring a systematized way to manage projects, people, and managerial activities. It is developed after analyzing glitches that companies face on a daily basis while coordinating with team members, clients or monitoring status of various projects. Built from scratch, this project management software comes with various features like invoicing, accounting, report generation, and announcements. With the system, you can easily track project progress, keep every one including you, clients, team members updated about the ongoing tasks, share suggestions/feedback with concerned team members more effectively, and coordinate with any department smoothly.

Although we keep on upgrading this system, yet the major changes were brought in last redesign, which got concluded recently (in 2016). The official website of BIZixx is developed using Photoshop and Flash (for the demo) and development has been executed using HTML, CSS,JavaScript, Flash, PHP, MySQL, and AJAX.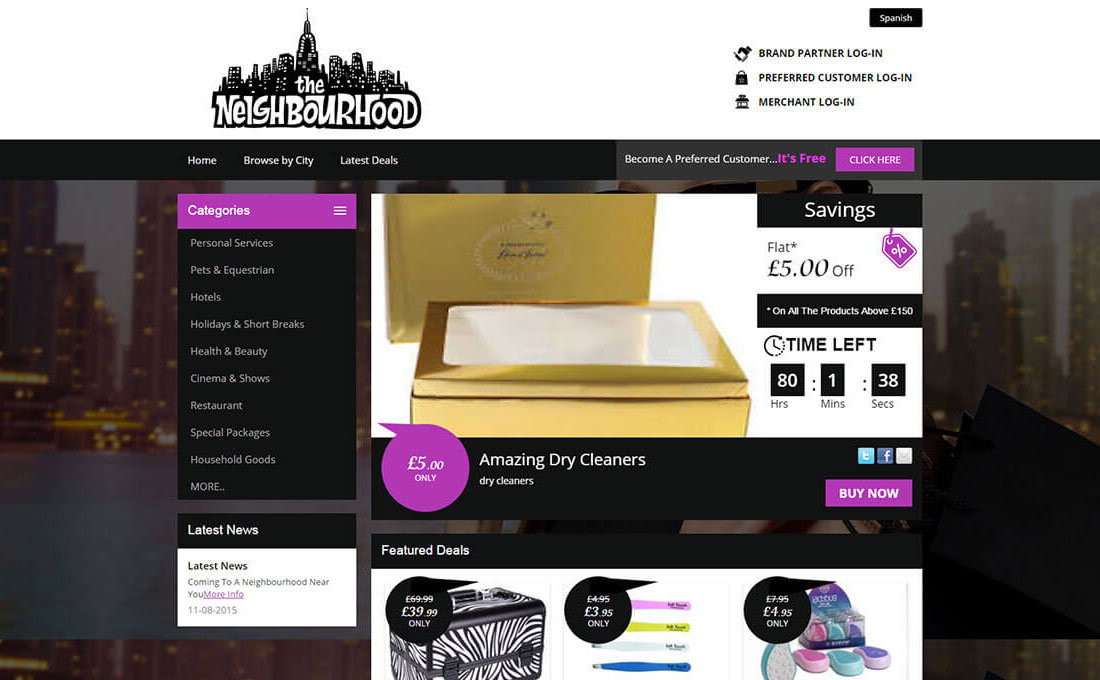 Next Big Deal
The Neighborhood approached Webs Utility with a project to make a website featuring deals from local businesses. The marketing team researched about competitors and due to high competition, major focus was put on branding to stand out of the crowd. The design team and analysts finalized a website that was custom built using YoDeals, which is a daily deals platform. In addition to responsive nature of the website, Webs Utility also integrated payment gateway, ratings, reviews, content management system, and more.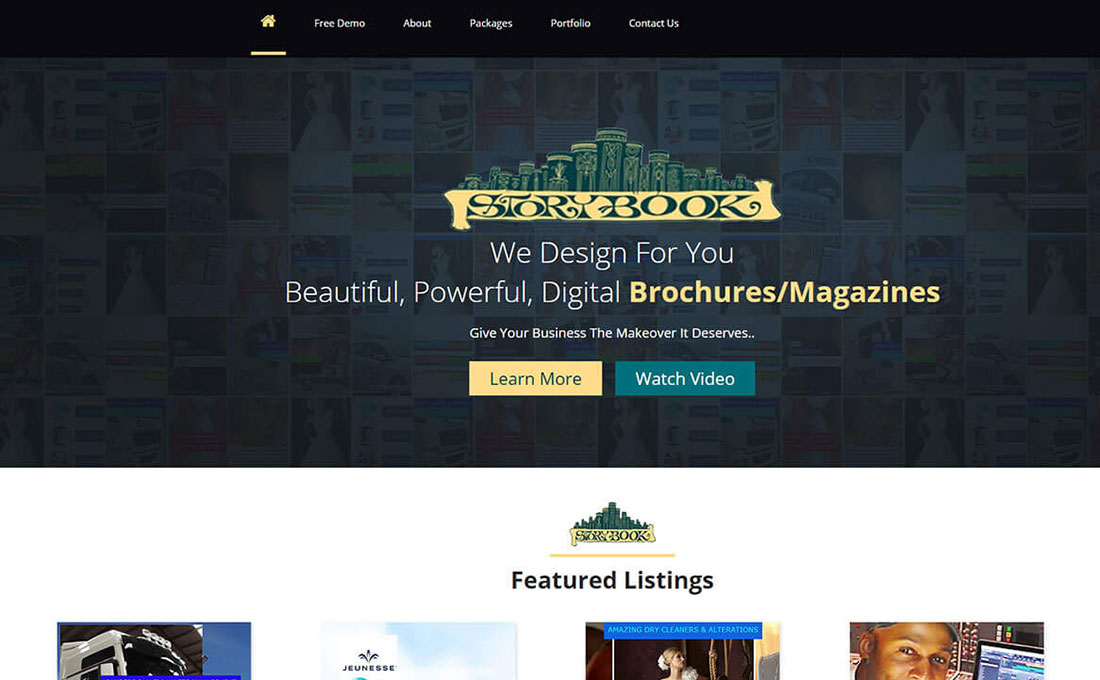 storybook
StoryBook is a US based client of Webs Utility. The team behind StoryBook has many websites which have been developed by Webs Utility including YoDeals based The Neighborhood Daily Deals website. StoryBook focuses on small and medium scale businesses. With StoryBook, business owners can promote their products and services in an engaging way, which will keep the customer coming back.
Unlike their daily deals website, the requirements for StoryBook were simple. Upon analyzing the requirements from the client, Webs Utility built a static website using HTML, CSS, and JavaScript. In addition, the team at Webs Utility did an exceptional work to make the website look appealing, thus providing seamless viewing experience across all screen sizes due to its responsive design.
Notebudd
Notebudd is a Canadian notes and books sharing website for college students. It provides services to enable discussions between users, and online groups for studying together, scheduling events in calendar, and more. The entire platform is custom developed by Webs Utility Technologies using latest open source technologies.

To improve the usability of the entire platform, we designed the website with an easy to use interface. To address the problem of sharing notes and books in a safe way, we integrated the platform with Scribd API, which enables users to share documents effortlessly. The platform also comes with an easy to operate content management system, integrated payment gateway, and more.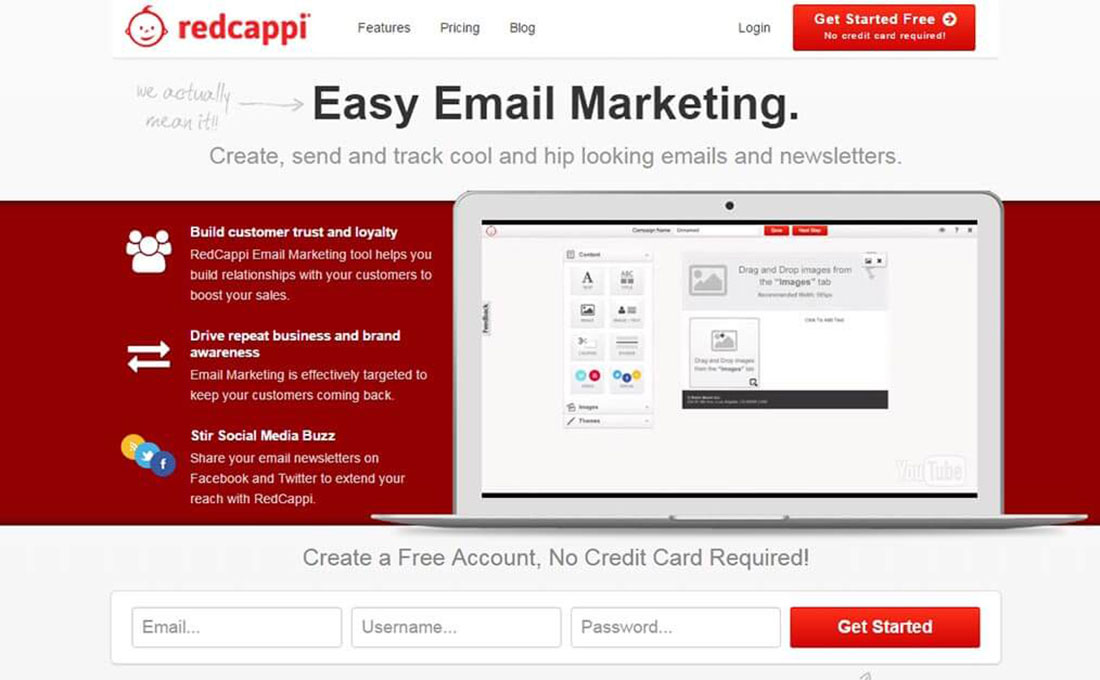 Redcappi
Redcappi is an online email marketing system developed by Webs Utility for Mr. Alec Beglarian, who came to us with DIY email marketing tool idea that needed User Friendly Interface for DIY Email Template Design Tool and Campaigns Management. Our team studied his business plan and developed this email marketing platform, which lets marketers create & send emails and track statistics/analytics.

The site was created using various technologies including PHP, Javascript, Ajax, Mysql. Redcappi developed by Webs Utility is the result of extensive planning and months of (iterative) design and development to match the vision of Mr. Alec Beglarian. And, very proudly, we say that he appreciated the dedication and commitment we delivered along with the project.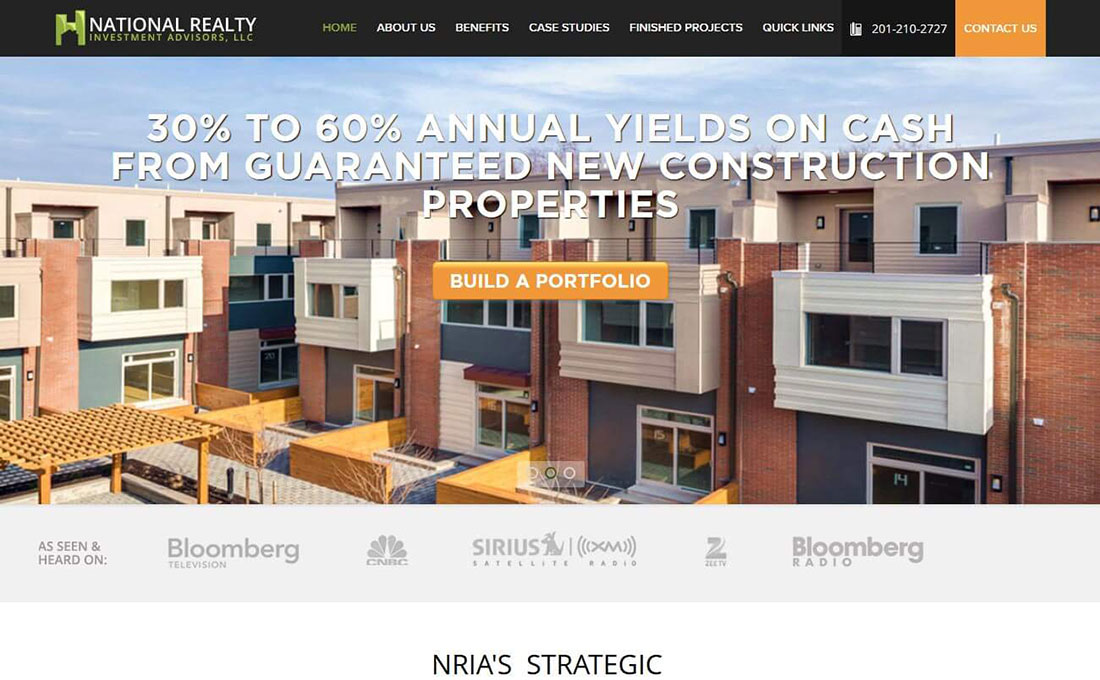 NRIA
National reality investment advisor is a Philadelphia based real estate investment firm that offers high return investment opportunities for investors. They approached Webs Utility for redesigning of their website and to ensure that it fared well on user engagement.

After careful analysis of the website and their target market, the UX experts of Webs Utility prepared a redesign plan, which included website design and Search engine optimization. We incorporated several strategies during the redesign phase, which included CTAs, engaging images, SEO friendly URLs, intuitive design and lot more. After the redesign, the website saw substantial growth with more than 70% increase in website traffic. The redesign also created prospects of catering to a much larger audience.
technology

HTML & CSS, JS,Wordpress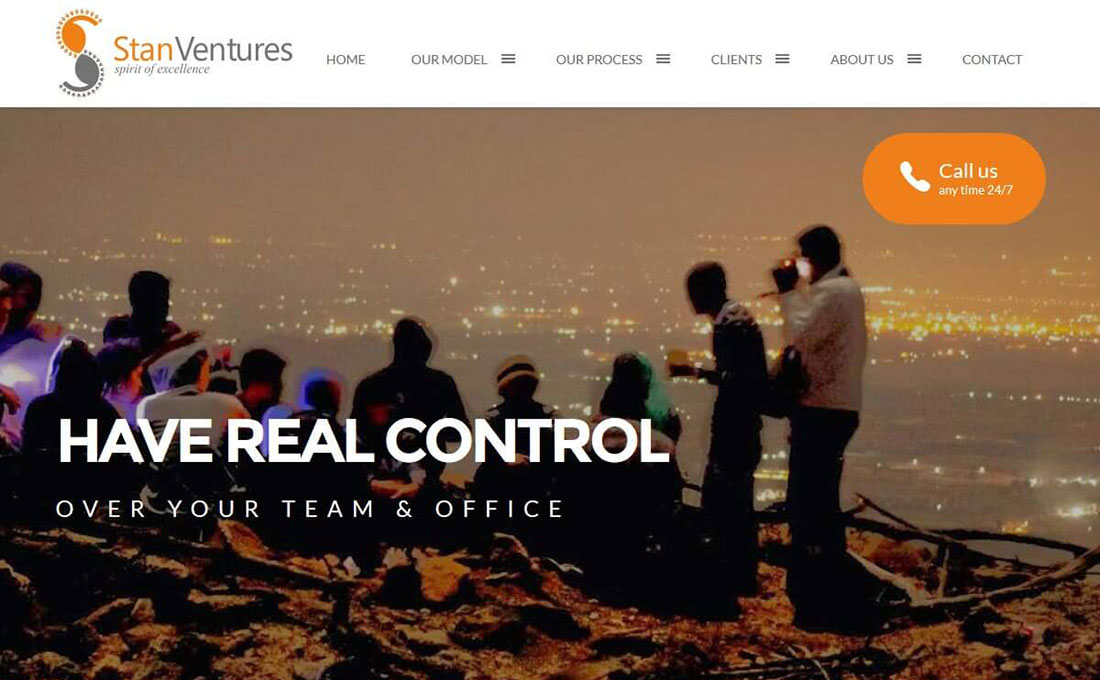 stan ventures
Stan Ventures is an India based company offering exceptional outsourcing and digital marketing services to varied business domains. They came to Webs Utility Technologies for redesigning of their website and making it stand out. Their main concern was to ensure that the website could cater to a vast audience.

Designers at Webs Utility analyzed the target market of the company and developed a responsive website using HTML5 and CSS. Our UX experts ensured that the UI and UX of the website are optimized to make the overall website look modern and elegant. The redesign of the websitewas done in accordance to the services offered by the company. The content was also redone by Webs Utility to make the information more appealing and engaging.
technology

HTML5 & CSS3, JS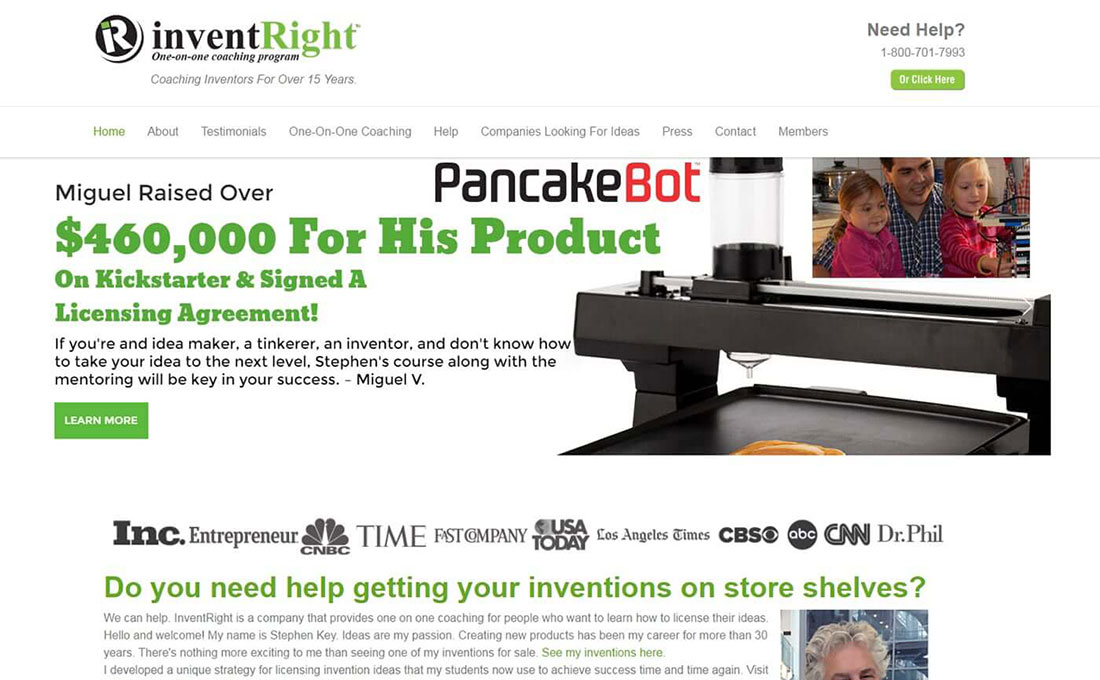 Invent Right
Inventright was created for one of our US based clients. It is one-on - one coaching program meant for students including lawyers, plumbers, stay-at-home parents, doctors, retirees, and more people. The company offers coaching on licensing ideas. Viewing the uniqueness of business model, the client wanted a site scoring high on user engagement. We planned every page of the website based on unique coaching service offered by Inventright. The delivered project is the result of various discussion rounds held between team members and the client.

Based on the research and analysis, we created a site that offers unique user experience and does justice to the business model too. The site is developed using HTML, CSS, JavaScript, PHP, MySQL.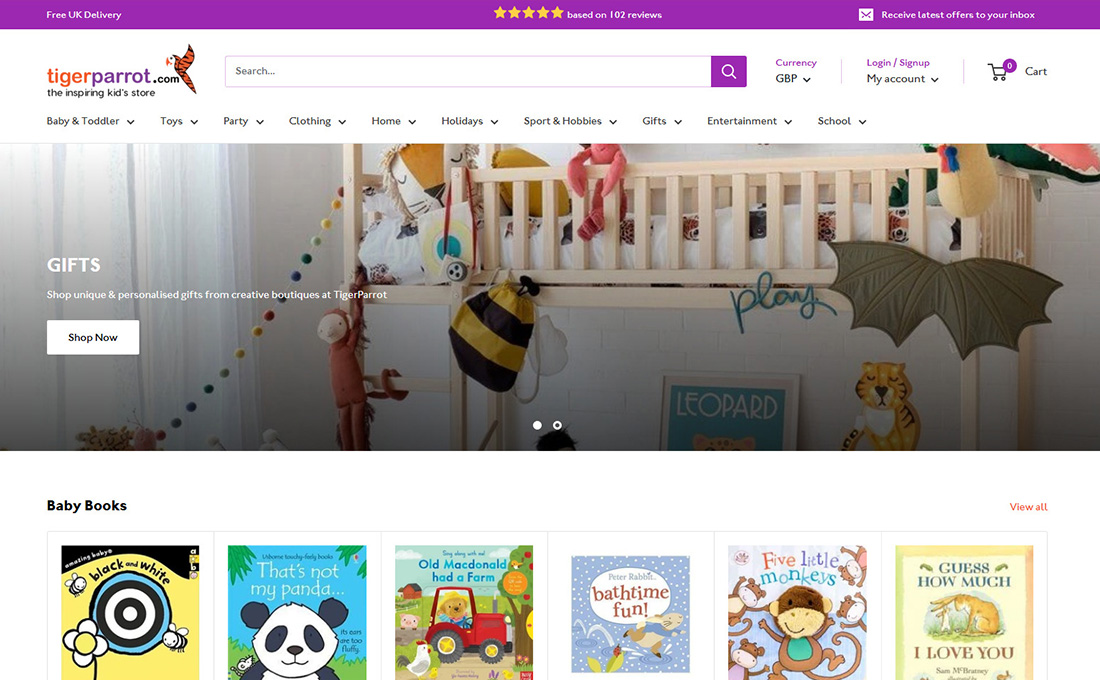 TIGER PARROT
To take the product experience to next step on its vision roadmap, we conducted the technology assessment, crafted the implementation roadmap and created easily configurable custom modules.
Custom build tax, commissions, returns and refunds modules
Custom filter algorithm for maximum flexibility in information retrieval
Frictionless checkout functionality for maximum conversions
Stripe integration for payments management
Products details page experience design (Product supremacy vs price supremacy)
Optimized products upload for maximum efficiency
Device first registration forms for faster onboarding

Gearflow.com
Gearflow - An online B2B Construction Equipment Marketplace.
The Gearflow owners wanted to build an online B2B construction equipment marketplace where buyers, suppliers and contractors could interact and transaction with each other from all across the US. The marketplace allows sellers to list unlimited parts and equipment, set up an online storefront and utilize powerful reporting tools all for free. On the other side, buyers can place bids on equipment of their choice, purchase spare parts, rate sellers and keep a track of their orders through the buyer's dashboard section.
technology

PHP 5.6, MYSQL 5.6, HTML5, CSS3, Ajax, JavaScript/JQuery, IonCube Loader
Trans Africa Assignments
As per the client's requirements, they wanted a solution where employers can easily list out assignments, vacancies or projects and simultaneously get reliable and verified assignees to perform the task. After the requirement gathering phase, we suggested them our exceptional product, Yo!Gigs. After analyzing the design our clients had in mind, the proficient experts at Webs Utility started working on it and added features that will make Trans Africa Assignments a highly engaging and intuitive online service marketplace.
Footloos
Footloos is an online marketplace that connects travelers directly with local businesses on island destinations in Asia. Footloos delivers the best travel experience by enabling the traveler to choose his experience type such as Culinary, Adventure, Fitness, Water Sports, and more. The company's aim is to raise environmental awareness and social responsibility, which is why a small portion of the fee is automatically donated to charities.

When Footloos came to Webs Utility with their idea, they wanted to stand apart from the rest of the travel portals. By analyzing their targeted user base our designers formulated a website design, which scored very high on user experience. Rather than going for a traditional website, we tried a new approach of offering all the crucial information on the homepage itself and carefully segregating everything into different sections. This made the whole website user engaging.
Flytxt
Flytxt provides mobile consumer analytics solution to many communication service providers. They provide a variety of services such as big data platform, integrated analytics, telecom marketing consultation; big data managed service, insight monetization services, mobile ad marketplace, and more.

Flytxt approached us for a complete website redesign. After carefully analyzing the requirements, the web development and design team along with digital marketing analysts came up with the design recommendations, which resulted in a beautiful responsive website that provides a seamless experience across all screen sizes. We customized the content management system to make the entire website easier to manage for Flytxt employees. Additionally, we also integrated WordPress with the website.
CAPS
Canadian Association of Postdoctoral Scholars (CAPS) exists to help Canadian post-doctoral scholars by acting as a liaison and institutional representative. It also highlights the role and value of Canadian postdocs within the academic community. The CAPS also enhances the postdoctoral experience by assisting institutional postdoctoral associations.

Webs Utility Technologies provided a custom solution to CAPS, which came with a blogging feature to announce news and opinions as well as a content management system, which made managing the entire website easier. Webs Utility also developed custom WordPress plugins to implement other features of the website.
Optistar
Optistar offers technology consultation service to small and medium scale businesses. Their core team consists of industry experts having 12 to 22 years of experience. They serve clients from places like North America, South America, and Europe. Over the years, Optistar has served clients belonging to different industries including, Retail/wholesale, Medical, Engineering, eCommerce, Legal, Construction Management, Environmental Services, Insurance Services, and more.

After analyzing the requirements, analysts at Webs Utility created blueprint of the website. The website serves the simple purpose of giving information about Optistar's business, so our designers paid special attention to the flow of information to ensure a good conversion rate for our client. We built the website using HTML, CSS, JavaScript, Jquery, PHP, and integrated WordPress to add blogging feature along with a content management system.
icssnj
Integrated Computer Services, Inc. (ICS) has over 30 years of experience in providing IT support, networking, cloud computing and managed IT services. Over the years, ICS has served many industries including Manufacturing, Medical, Financial, Legal and more. Due to the use of outdated methods of building a website, Webs Utility decided to build ICS's website from scratch. With primary focus on branding and engagement, the team also worked towards making the navigation intuitive. We designed 300+ webpages and integrated additional services like custom blogging module, Zopim, Zendesk, and more.