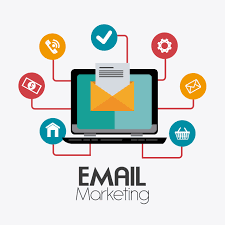 Email Marketing for Branding
Despite this email marketing is considered as one of the most effective ways to remain in touch with your clients it is because of the following reasons.
Email Marketing In Delhi, India
Email marketing nowadays is necessary as everyday people receive over 1,000 marketing messages in order to make your business Email stand out of the crowd definitely task however by availing email Marketing Solution you can easily and get your target audience and spread business message in the most cost effective manner.
Steps to be followed: Troubleshooting
Email Lists: Build organic lists
List Segmentation: Create relevant segments
Email Subject Line: Write intriguing subject lines
Email Design and Layout: Use the right design elements
Content and Copy: Create personalized and targeted content
Landing Pages: Team up your emails with right landing pages
Email Testing: Test rigorously before sending emails
Email Automation: Plan automated emails for your campaign
Unsubscribe/Set Preferences: Make the unsubscribe option evidently
Email Tracking: Track and measure performance metrics
A. Verified Domain Data: 8000 INR (Each Year) OR
B. Google Map Data: 4000 INR (Monthly for Unlimited Data) Pls suggest: you can select A or B or A & B BOTH AS WELL
Content Writing: 800 INR per EMAILER: Total Emailer 22: 800*22= 17600 INR
Create HTML design Emailer: 1200 INR per EMAILER: Total Emailer 22: 1200*22= 26400 INR
A. Email Marketing tool cost: 5398 INR FOR 10,000 subscribers Mail-chimp OR B. Email Marketing tool cost: 11,743 INR FOR 10,000 subscribers Get Response>
Email marketing MANAGEMENT COST: 35000 per month Pls note: AFTER three-month cost will be: 20,000 per month since initially more man powers will be invested to SET-UP the CAMPAIGN
TOTAL TIME FRAME 3 MONTHS. PLS NOTE: Total cost may vary after your SELECTION of OPTIONS A OR B in point number 1&4.